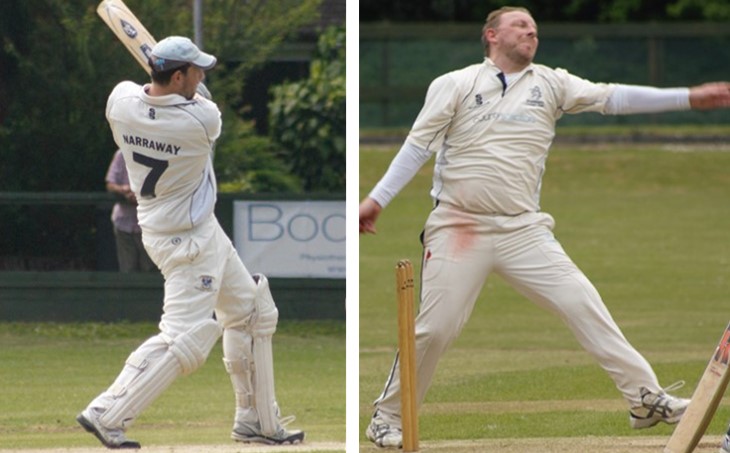 Broadstairs got back to winning ways this week with a convincing victory over Gore Court.
Winning the toss, stand in skipper James Bond elected to bat. Father and son Hewitt opened the batting, Lewis (0) dragging on in the first over. Simmo joined Lee and they both feasted on an array of boundaries until Lee (13) was caught. Scott joined Simmo and he too tucked in, 4,4,6,4 his first four scoring shots. Simmo (20) was caught and bowled for the second time in as many weeks and Nathan Fox helped Scott keep the scoreboard ticking over.
A stand of 71 in 17 overs put the pressure back on Gore Court, Scott punishing anything full and bringing up his half century and with Natty pinching ones and twos the oppositions heads were dropping. Nathan (26) eventually fell in the same fashion as Simmo but he had helped put us in a great position. 129-4 with 20 to go.
Josh Marshall joined Scott and played the same role as Nathan, picking up the ones and twos with a couple of boundaries mixed in and the biggest stand of the innings (73) put us right in the driving seat. Josh (31) eventually caught on the boundary and we were 202-5 in the 47th
James joined Scott who then brought up his hundred, a fantastic chanceless innings but he wasn't done just yet. The last 3 overs saw both batsmen punishing everything, James (18*) has found a new scoring area, clearing that front leg out of the way and sending the ball into the mid-wicket boundary and Scott brought out the reverse slaps (he liked to call them sweeps, they were far from it!) and 47 runs came from the final 14 deliveries!
Scott finished unbeaten on a fantastic 128* and helped us set a total of 249.
Bradley Ellison and Callum McCormick opened the bowling but it seemed like the bad luck from the previous week had followed into this week, drop catches, beating the bat time and time again but no wickets, until Lewis took a catch off Cal in the 18th over. At 38-1 Gore Court still had plenty to do. Brad finished his spell (10-5-10-0) and was replaced by Josh, Cal finishing (10-2-26-1) and Ashley took over.
The change brought wickets, the Walrus getting the number three in his second over and removing the other opening bat in his third. The number 4 looked handy, fizzing some impressive drives through cover but he had no help at the other end. 68-3 at the half way stage, surely it was just a matter of time.
Oli replaced Ash after 5 overs, Josh continued twirling away and got some reward in his 9th over, the dangerous number 4 well caught by Oli on the boundary. He got his second in his last over and a tidy spell cam to an end (10-1-43-2).
116-6 in the 38th and Gore Court was just looking at batting points, Tray was back into the attack in tandem with Oli. This season's top wicket takers should exactly why they have so many between them and cleaning up the tail, 2 more for Tray (8-0-30-4), Oli also picking up 2 including the final wicket caught & bowled (7.2-0-24-2).
The win moves us up to joint third in the table, 2 points behind Bickley Park. Scott Narraway taking this weeks MoM for his superb century.
Next week we welcome Old Colfeians to Park Avenue, we never really know what team they will turn up with but they have one of the leagues best bowlers and some handy batsmen, it promises to be a great game so all support will be much appreciated.