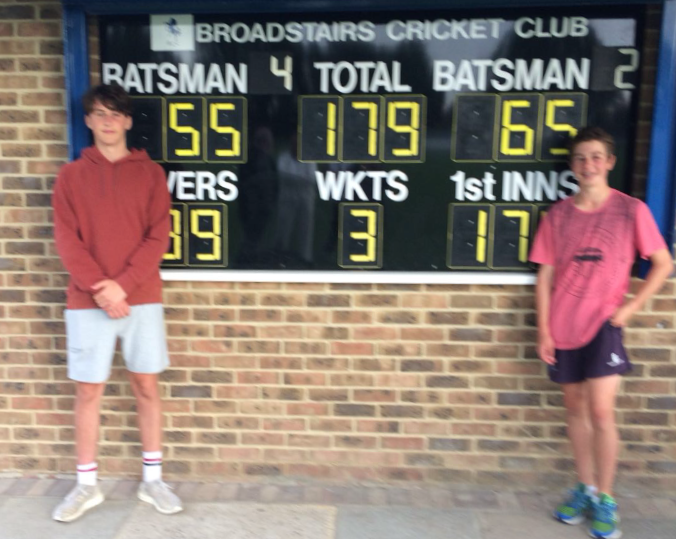 Broadstairs 2nd XI moved one step closer to promotion with a convincing victory at home to Gore Court. Losing the toss and invited to field on a slow pitch with variable bounce, opening bowler Archie Ralph-Harding made early inroads, claiming 2 wickets in his 6 over spell. A further wicket fell during this early period with an exemplary run out executed at point by George Kidd. Bowlers Ralph-Harding and Luke Palmer were replaced by Oliver Frewin and Kidd who were able to apply a squeeze on the scoring over the subsequent 15 overs and claimed 2 wickets apiece finishing with figures of 2-41 and 2-30 respectively. With the score at 93-7, it looked like the hosts might restrict Gore Court to a low total. However, whilst the overseas Baid was still around, there was the potential for runs to accumulate. Indeed, with a series of boundaries, Baid almost single-handedly advanced the total to 159 before he fell for 93, caught by Nathan Fox off the bowling of the Ralph-Harding in his second spell. The remaining 2 wickets were claimed by Ashley Ellison and Gore Court finished their innings on 178 with more than 6 overs remaining.
The Broadstairs reply began with a stutter as Brian Simpson (11) was trapped LBW by Crompton in the 4th over. Fellow opener Fox was joined by Tom Marshall and together they offered stout resistance against the tricky movement provided by Crompton and Newell. Eventually, Marshall (7) succumbed to the bowling of Newell in the 13th over but he and Fox had by that stage done much of the work in seeing off the opening bowling pair. When Fox was joined by Ralph-Harding, they were able to start attacking the second string bowlers and their partnership of 122 all-but-secured victory for the hosts. Ralph-Harding (55) fell in the 38th over and it was left to Palmer and Fox to see Broadstairs over the line. Fox finished with an unbeaten 65, his first half-century for the 2nd XI.
The win means that Broadstairs require just 3 points from their final match away to Old Colfeians in order to secure promotion to Division 1 next season.